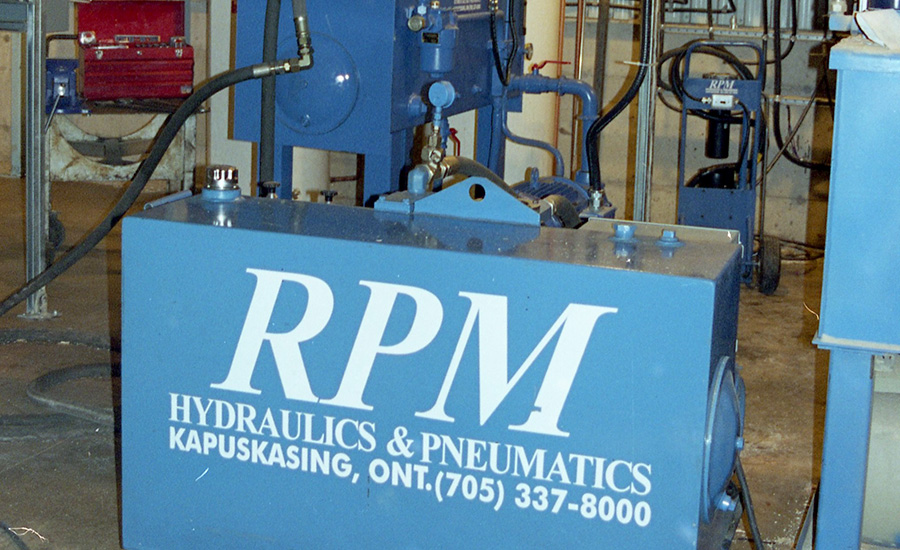 Tembec Inc. – Kapuskasing, Ontario
Flushing services for Tembec, Inc.
RPM currently has a fleet of three flushing units with a combined capacity of up to 250 GPM for flushing of large hydraulic piping. All units were designed and manufactured in-house and have proven performance.
Flushing involves looping of all field piping in long continuous loops and circulating hot oil at high flow to obtain turbulent flow within the piping. Oil is filtered prior to returning to the flushing unit reservoir and the process is continuous until target oil cleanliness is achieved. Flushing progress is monitored by a computerized in-line contamination monitor and all data is logged in memory for downloading and report generation.
The Tembec Kapuskasing Sawmill was built in 1994 and numerous hydraulic units were installed. The photo shows one of the RPM flushing units in operation for flushing of the piping installation for the bin sorter hydraulic system. RPM provided flushing services for all hydraulic piping installation in the sawmill and planer complex and no single hydraulic component experienced a contamination related failure during commissioning and start up. This is a proud accomplishment considering 30+ piping systems were flushed.
RPM now provides emergency services, component repair and annual maintenance to hydraulic systems in the Tembec Kapuskasing Sawmill.